So I've seen people state that his RPD uniform in the remake is the reimagined version of the RPD's new standard uniform, so instead of getting this;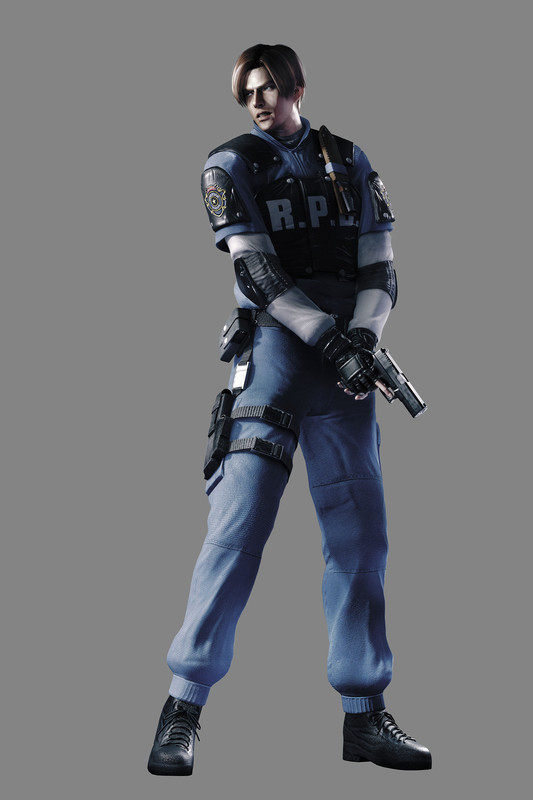 The RPD is getting this;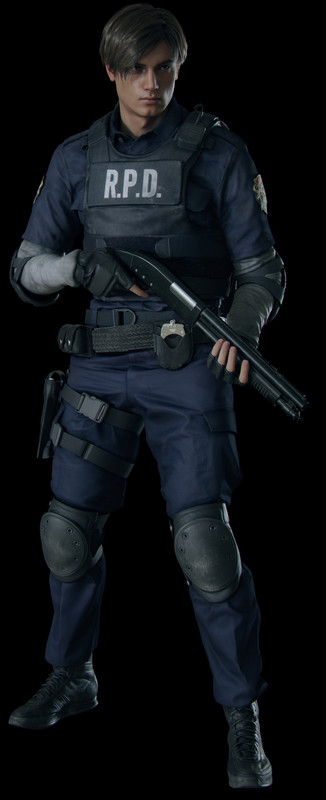 But what if it's not a reimagined version at all?
When Leon gets to the RPD and gets the uniform, there's two ways he can get it, in the 1st run he gets it from Marvin and the 2nd run he gets it from a locker in an oddly placed Guard room. In either case it's not HIS uniform.
Let's take a few steps back and look at the back story for Leon.
According to the preRE2make stuff, Leon goes to the RPD, meats a few people, like Kevin, gets his newly issued uniform and then goes back home where his girlfriend dumps him and he gets drunk and wakes up late for work puts on his uniform and drives off to Raccoon City. While in the remake he gets a call to stay away. So even though he gets a call to stay away, everything else could still fit. He could've gotten his uniform and met Kevin before the call and lost his girlfriend and got drunk after the call then heads out to Raccoon City as he has no reason to stay wherever he's from. He does manage to drive into a gas station with blood splattered all over the ground and start pumping gas before a sudden crash from inside makes him realize somethings off. Maybe he's still recovering from the breakup?
Anyway if we view it like this, it's very possibly his classic uniform is still a thing and it's in a suitcase or something within the jeep and he just didn't feel the need to put it on as he wasn't late for work in this version.
So then what's the uniform in the remake and why is it so different if it's not the new uniform? Well it's not too different at all as far as the series goes. Remember Tony's uniform?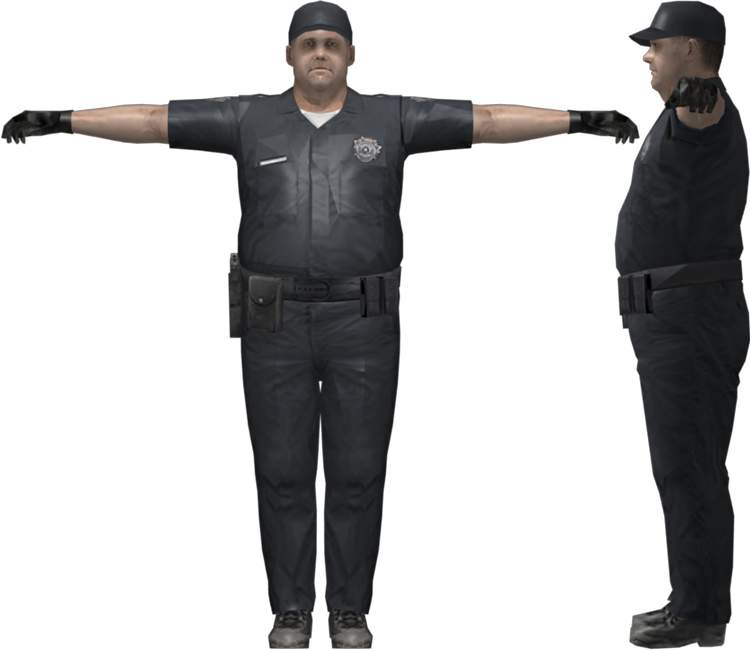 If he was in the RE2make wouldn't that uniform look a lot like the one Leon gets?
But as for what it is, I think it's a night duty or some kind uniform for officers serving a secondary or specialized roll and here's why;
Kevin has a newly issued uniform like Leon but his is dark blue to black.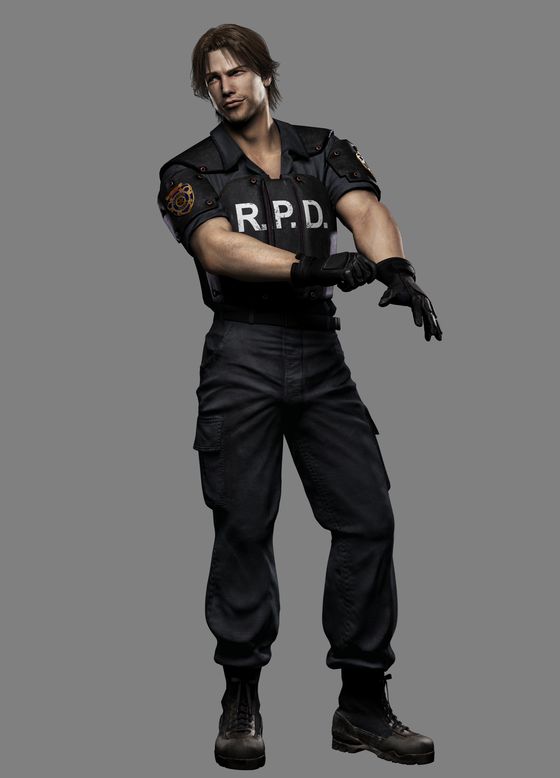 Kevin has a locker in the night duty room or as re2make calls it "Break room." Meaning he has night shifts a lot. So then his uniform could be the newly issued version for night duty officers while the one Leon get would be the original that was planned to be phased out.
The only other thing that makes me believe the uniform Leon gets is for night duty officers is grasping at straws a bit but there's logic to it. Kevin's side arm is a M1911, when Leon gets to the guard room in RE2make, there's a M1911 laying on the desk. So perhaps this is the standard side arm for night duty officers.
But if that's too much of a stretch the idea that it's a uniform for any nonstandard RPD role can still work. The darker shade of blue is after all worn by Tony, as already pointed out, and he's the dog trainer. Also, the helicopter pilot is wearing a darker shade of blue for his RPD jumpsuit and Raccoon Swat is also wearing dark blue in RE3.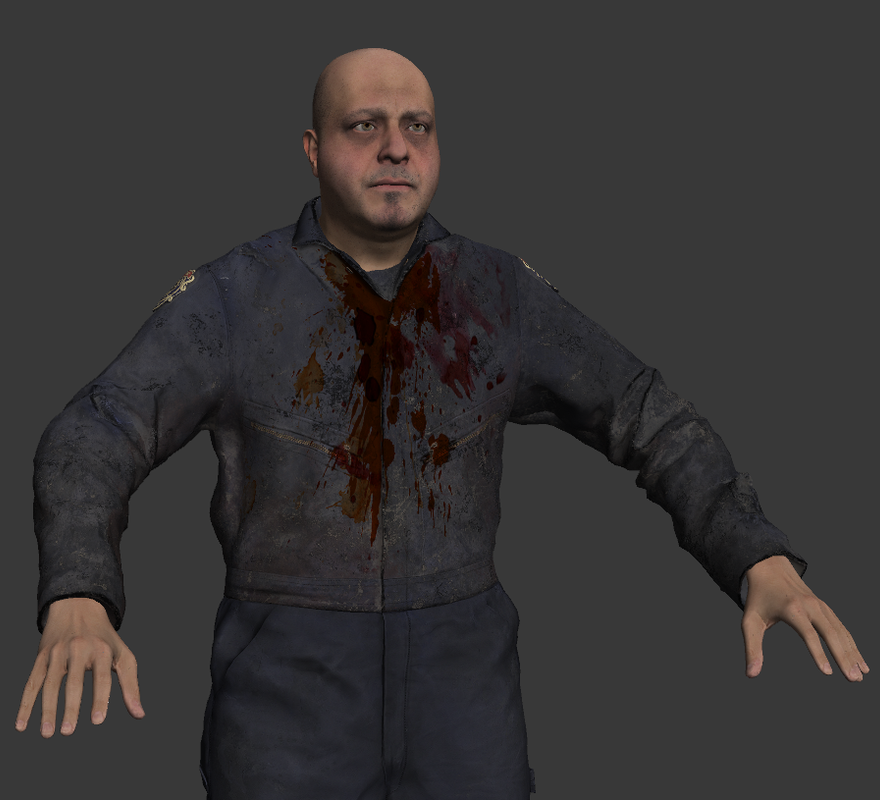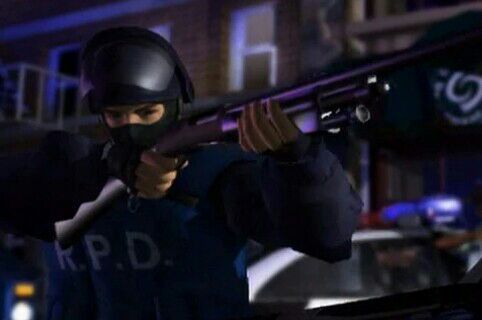 So in short, I believe the uniform Leon gets isnt just a reimagined version of the newly issued uniform but instead just a standard uniform variant used by the RPD. Thoughts?