Resident Evil Revelations ARG assets: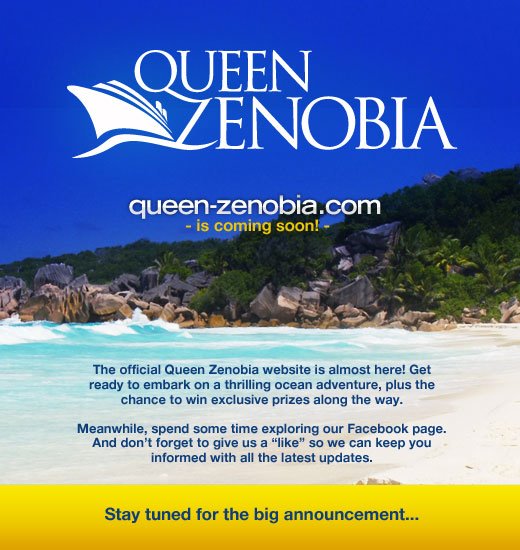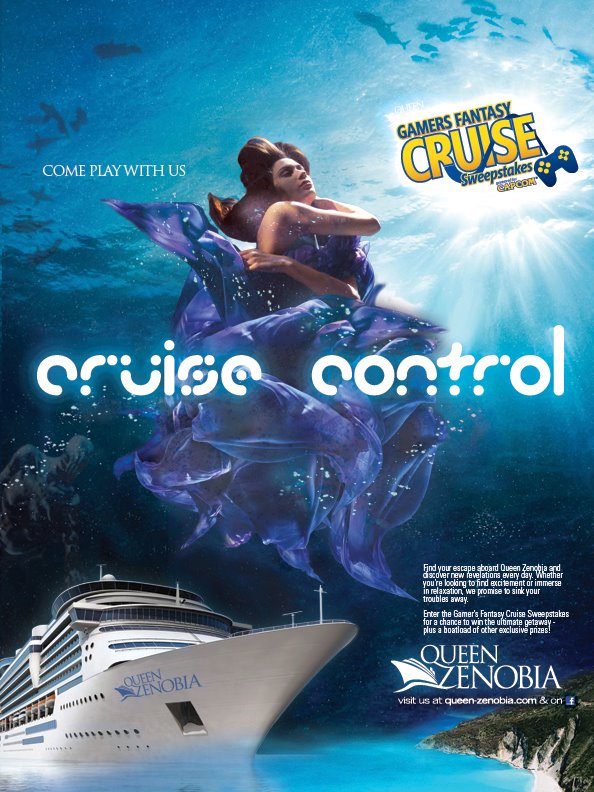 Text a bit hard to read so heres it written out.

COME PLAY WITH US Queen Zenobia Gamer Fantasy Cruise Sweepstakes presented by Capcom.
Cruise Control
Find your escape aboard Queen Zenobia and discover new revelations every day. Whether you're looking to find excitement or immerse in relaxation, we promise to sink your troubles away.
Enter the Gamer's Fantasy Cruise Sweepstakes for a chance to win the ultimate getaway – plus a boatload of other exclusive prizes!
Queen Zenobia
Visit us at queen-zenobia.com & on Facebook

Queen Zenobia Website

Queen Zenobia Call Us: (786) 519-0043
Enjoy your featured cruse starting at just 49$
About Us
Find your escape on Queen Zenobia
Welcome aboard Queen Zenobia Cruise Lines, the Mediterranean's leading budget cruise ship operator. Our fleet of luxury cruise liners has been traveling to Europe's most exquisite seaside resorts and exotic destinations since 1996, along with our award-winning resident staff. Whether you're seeking action and adventure or just looking to unwind, we offer a variety of activities for guests of all ages. Dine on world-class cuisine, treat yourself to a massage, try your luck at the casino, or immerse yourself in water at a poolside bar. All of our cruises offer a fun-filled schedule oozing with excitement, plus the chance to discover new revelations every day. Book your next voyage with Queen Zenobia. We promise to sink all of your troubles away!
[If you highlight the text, "thepasswordisghostship" appears]
Destinations
Amalfi
Civitavecchia
Gaeta
Porto Rotondo
Taormina
Terragrigia 1
Valletta
1. Queen Zenobia can no longer offer cruises to this destination due to the recent tragedy on the island of Terragrigia.
We apologize for any inconvenience.
Sweepstakes
Queen Zenobia Cruise Lines is teaming up with Capcom to give one lucky winner the voyage of a lifetime! We're also giving away Nintendo 3DS(TM) consoles and copies of the Resident Evil Revelations game signed by Capcom developers.
Simply fill out the form below and enter for a chance to win!
The Gamer's Fantasy Cruise Sweepstakes is no longer accepting entries.
Stay tuned… We'll be announcing the official winners on our Facebook page soon.
Gallery
Browse our latest photo album of passengers having the time of their life aboard the Queen Zenobia on a recent cruise to Trapani, Italy.
Marion Family
[The other 7 families wasn't archived]
Reviews
"...as for island cruises, you won't find a better low-budget operator than Queen Zenobia. I highly recommend a visit to Terragrigia, the unexpected highlight of my trip and one of the Mediterranean's best-kept secret destinations."
– Jonathan Meyers, Voyager Magazine, 2000
"Our trip to Terragrigia vastly exceeded my expectations at just a fraction of the price of other European getaways. The gorgeous, pristine beaches and charming seaside villages were enough on their own to completely justify the cost of the excursion."
– Samantha Steinman, BudgetCruiser.com, 2002
"If you want to find this summer's hottest cruises to Italy's coolest destinations, look no further than Queen Zenobia."
– Julian Castillo, Open Waters, 2003
"The best way to witness the abysmal ruins [Terragrigia] is from the deck of a cruise ship; the most affordable option is Queen Zenobia Cruise Lines."
– John Espinoza, The Aquatic Adventurist, 2005
Promotions
Take advantage of these exclusive limited-time offers!
Press
New budget cruise line embarks on maiden voyage
Queen Zenobia adds one more ship to its fleet
Queen Zenobia cancels upcoming cruises [this is a PDF file]
A letter from the Queen Zenobia co-founder & CEO
QZCL 2002 - Q3 earnings report
Mediterranean cruises offer lower prices
Queen Zenobia promotes Valentine's Day special
Ocean Explorer: Top 10 budget cruises of 2003
IMELS to reopen beaches following cleanup
Ocean liner disappears off the Italian coastline
© 2011 Queen Zenobia Cruise Lines Ltd. All Rights Reserved.
Queen Zenobia Press Release[This is the PDF file transcribed]
ROME, Italy (March 3, 2003) – Queen Zenobia, a relatively unknown but increasingly popular budget cruise line has announced it will cancel future cruises and cease its operations indefinitely. This bold decision comes amidst a barrage of unsubstantiated complaints from passengers and company employees, including reports of illness due to unsatisfactory sanitary conditions and frequent mechanical problems aboard two of the cruise liner's vessels. The Italian cruise line already faced one major setback this year after the unfortunate disaster forced them to relocate their homeport from the city of Terragrigia. Other local cruise operators were also hurt by the loss of this once-thriving island destination.
While the duration of the cruise line's hiatus is unspecified, the CEO remains optimistic about Queen Zenobia's future. "We sincerely apologize for any inconvenience this interruption has caused, be we will overcome this hurdle and likely resume operations by the end of the year." Stated Lodovico Boccaccio, Queen Zenobia's co-founder and CEO. The cruise line already initiated a series of plans to restore the company's reputation and fix recurring mechanical problems. Boccaccio and his management team have addressed the ships' sanitary issues and claim the reported sicknesses have all been linked to a single virus. After three confirmed deaths were linked to the virus, scientists are studying the strain to determine if it's contagious or poses a serious threat to the other infected passengers.
In response to the mass exodus of Queen Zenobia staff members recently leaving the company, Boccaccio added, "We're excited to welcome additional team members to the Queen Zenobia family at the end of the year. Visit our website in the upcoming months for a complete job listing." The company would like to remind jobseekers that Queen Zenobia offers competitive salaries, a full benefits package, and the unique opportunity to explore the Mediterranean Sea aboard a world-class fleet with the best crew in the cruise line industry.
For more information, visit www.queen-zenobia.com
Hidden in the source code:(
"Queen Zenobia Cruise Lines L.L.C. is currently under BSAA surveillance for failing to cooperate with international authorities, a violation of code 7N3D153R. In order to complete the investigation we request your help in reporting suspicious activity on this website. If you happen to see anything unusual or alarming, please report to http://www.bsaa-admin.org/ immediately.
Thank you for your cooperation."
Scents this was a mini ARG, here's all the hidden codes for the BSAA site:
519043BSAA1786
887440BSAA1011
990123BSAA1355
584135BSAA7410
557801BSAA0999
009854BSAA7410
345212BSAA1145
124555BSAA9980
121770BSAA9987
571891BSAA0001
Back in the day, these was worth looking at solely due to the fact you couldn't get higher res screen shots for the game anywhere and you had a chance to win some stuff. As explained above in the sites transcripts. Now the only thing worth anything can be found here the following:
"Strange animal on the beach"
https://www.youtube.com/watch?v=3tUMPbFGde0
"Hazmat crew on the beach"
https://www.youtube.com/watch?v=HUr_ong_T-A
These two videos go with Jill's mentioning of strange corpses washing on the beach and how the FBC can't keep it covered up forever.
This is what happened if you called the number back in the day