Everyone remember all that interesting lore stuff from the ARG for RE6 right? Sure you do! Who wouldn't? It's not like you live under a rock or nothing. But for those that did live under a rock, like BSAArklay, who missed out on all of this, I went back and saved all that I could save. Lot of missing parts are gone forever. But there's still plenty to enjoy. So enjoy. Oh and crawl out from under those rocks theres an ARG for everything these days haha.
Also, keep in mind this is an ARG. The dates are going to be iffy at times. For example even though the ARG Inserted Evil's story was set during 1998, but some parts had different dates cause of the media they was working with (twitter, YouTube, etc.) its just the nature of these things.
No Hope Left Story information
Editor Note: The main site was described as an government conspiracy kind of a blog so to speak. The post are all posted by a L.A.W
This was the first thing you saw on the site late into the ARG:
"It is over. Society, civilization, humanity, whatever you want to call it – it's done. The c-virus has swept away all in its path. There is no vaccine, no escape, no respite from the evil it has hatched. Use your last moments well – say goodbye to loved ones however you can. Hold each other close. We will continue to update you with more revelations over the coming weeks, but be under no illusion – we are all on our own. Look for hope."
With that out of the way, onto the posts.

WTF??? Posted January 11, 2012 by L.A.W
Found this on youtube, pretty dark [Editor's note:I know hyperlinks can be hard to see so heres the link https://www.youtube.com/watch?v=oP3zBS7YYSY]

Does anyone know what she's saying?
Apparently it's in Mandarin and she's saying something about her kids, and that she's safe or something. Freaky, whatever she's on about.
Found this at 0:27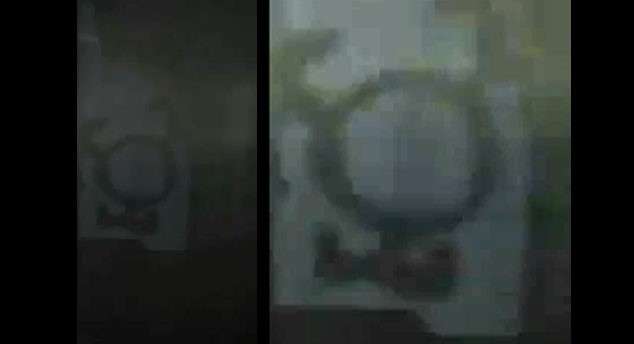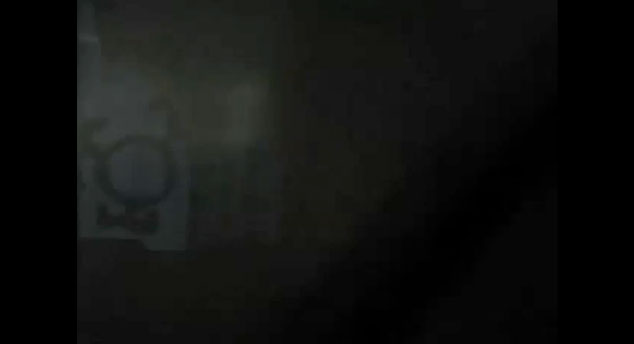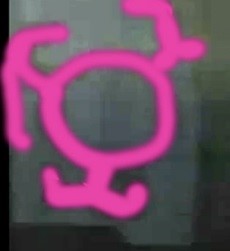 Don't know what it is or what it means, but it's the same as the one on these photos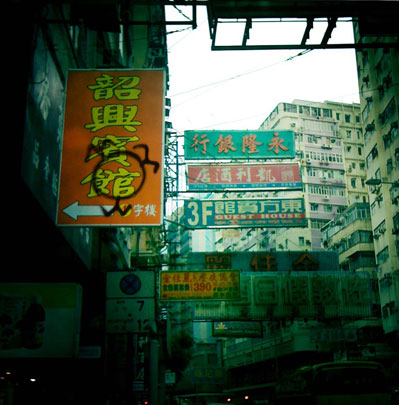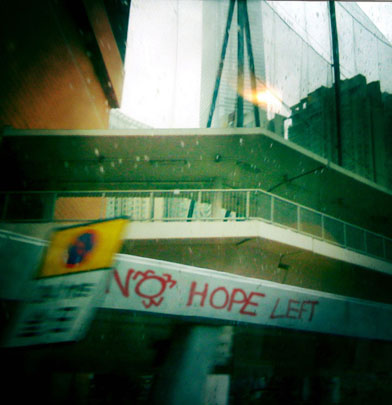 Hong Kong, possibly Kowloon?
They're definitely the same look
We don't know what it means but there's definitely something weird going on. If anyone's got anything send it in.
What's happening on the 19th?? That's only in 4 days!! Posted January 14, 2012 by L.A.W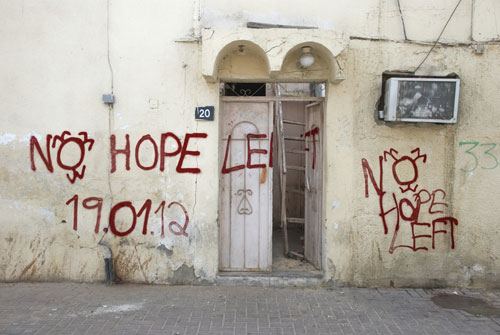 And now there's a video with 01.19.2012 on it as well! Coincidence??? [Editor's Note: As before https://www.youtube.com/watch?v=FG_UrVG_W2Y]
The next dates are lost sadly. He receives the follwing photo on February 8, 2012.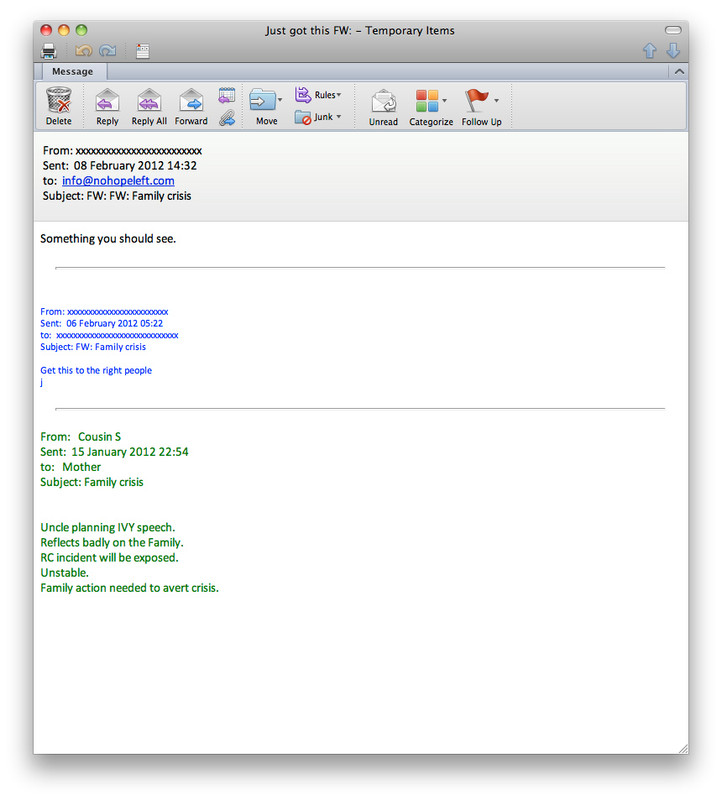 Then the site goes down and a hidden audio file of a Chinese women prying can be found. The site is back up on the 22nd where it's discovered that "This domain has been seized and is under investigation". A hidden audio file can again be discovered in mandarin. Its translation is:
"if you're smart enough, please help me. I really don't know what I should do. I'm really scared. Please help me… when I am here alone, There is no one i can depend on… so please come and help me.."
MESSED UP AUDIO Posted on April 10, 2012 by L.A.W
We've been trying to figure out what this audio was when we were shut down.
Sounds like some kind of frantic muttering.
No idea really.
Could do with some help on this. If you haven't heard it, check this out:
https://soundcloud.com/l-a-w1/praying
[The following is added later on]
We got it translated. Here it is:
"Dear heavenly father,
Please help me. I don't know what to do and I am very scared. Please help me.
I am so alone and helpless here. I beg you to help me. "
TRANSMISSION FOUND Posted on April 20, 2012 by L.A.W
Discovered this radio transmission. Sounds like more praying? Where's this guy from and what's he praying about???
https://soundcloud.com/l-a-w1/radio-transmission
"Listen to me, no matter what they say, no matter what you hear, no matter what you hear on TV, they're coming. Be careful."
IVY UNIVERSITY GRAFFITI Posted on April 27, 2012 by L.A.W
Looks like there's something going down at Ivy University. Check it out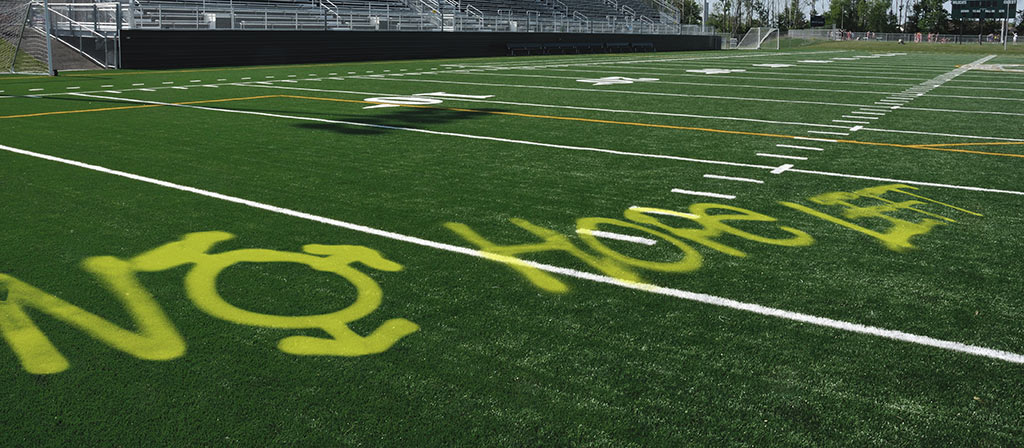 MASS PRAYING PICS Posted on May 8, 2012 by L.A.W
Don't know whether it's connected or not but found these photos of people praying and consoling each other in some kind of city square somewhere.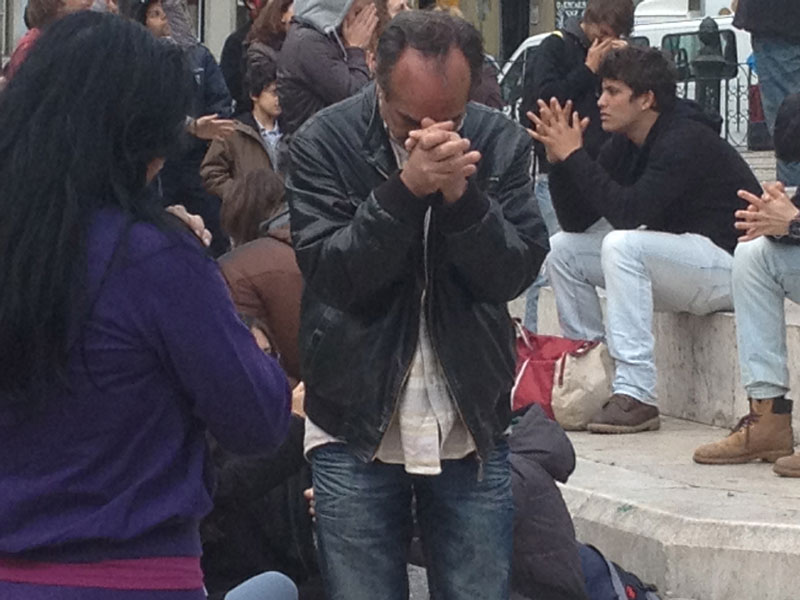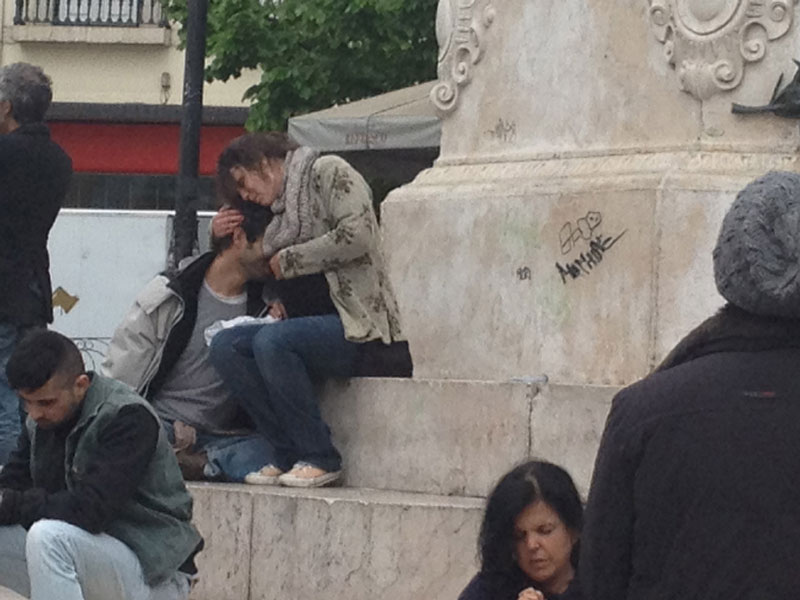 It doesn't look like a religious festival or organised event these people look genuinely desperate.
DISTRESSING PHONE MESSAGES!! Posted on May 16, 2012 by L.A.W
People all over the world have been receiving really emotional and upsetting answer phone messages from loved ones. They sound like last goodbyes. Have a listen and see what you think.
https://soundcloud.com/l-a-w1/message1
"I'm scared, I'm really scared. I just needed to tell you how much I love you. "
https://soundcloud.com/l-a-w1/message2
"Hey baby I just wanted to tell you that I love you so so much, and I miss you right now and I don't know what's going on right now. But I want you to know that no matter what I will never give up and I wont give up. And we are going to see each other again, I promise, and you do ok. I love you."
https://soundcloud.com/l-a-w1/message3
"Mum it's me… I'm in a situation I can't get out of I wanted to say something to you and when we last spoke I didn't get a chance to say it to you. I love you and everything that happened between us before means nothing because… well it doesn't matter anymore I'm stuck here and I cant get out and my phone's about to run out. I just want you to know I love you and whatever-"
https://soundcloud.com/l-a-w1/message4
"Mum, dad, I just want to tell you I am ok, I don't know how long it will last, I am already really tired, I wonder how are you, I am really really tired and scared, if you are coming back please be quick."
https://soundcloud.com/l-a-w1/message5
"Sweetheart I love you. I want you to take care of yourself. Bye."
REMEMBER THIS? SOUND FAMILIAR?? Posted on May 17, 2012 by L.A.W
[Lost media file]
MANIC IVY UNI TWEETS!! Posted on May 29, 2012 by L.A.W
This is the twitter feed @IVY
Basically it looks like their twitter feed went crazy for a few hours then just went dead. There's been nothing since.
Something definitely went down at this place.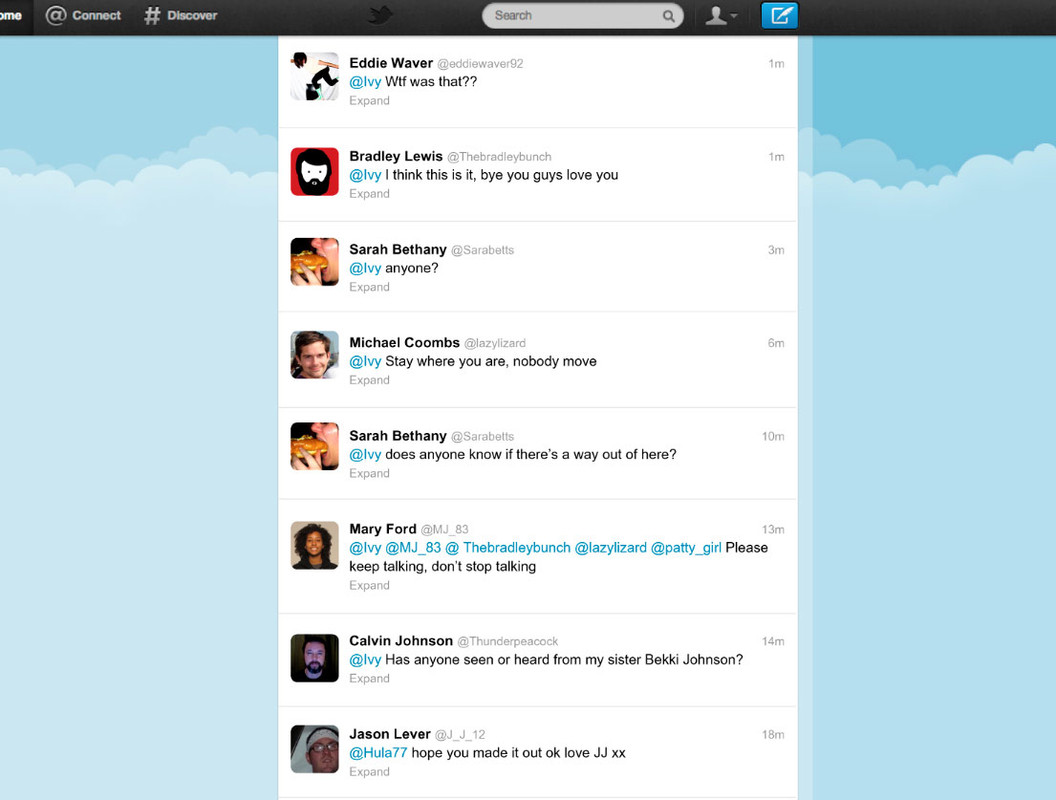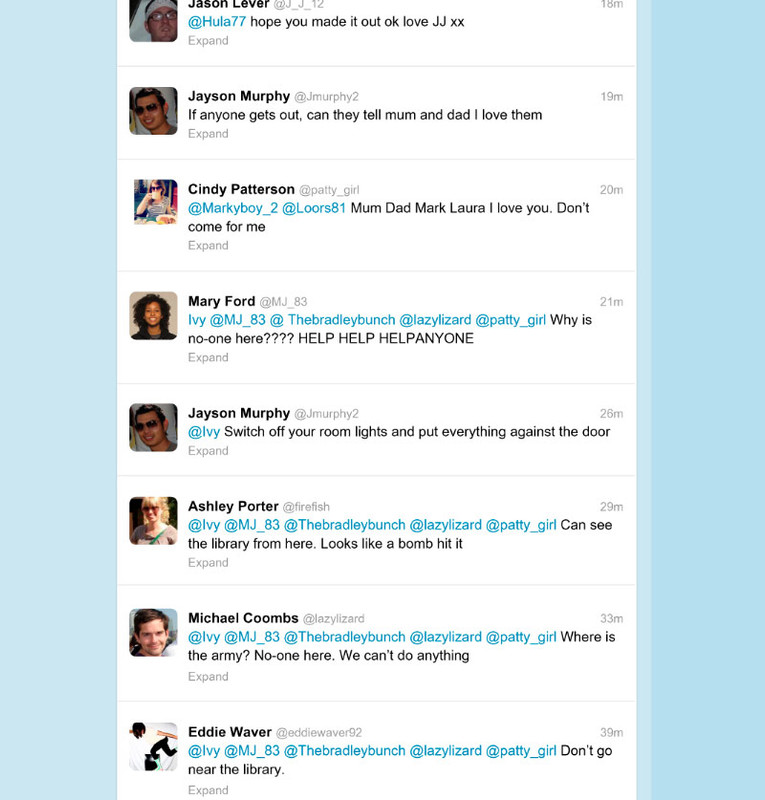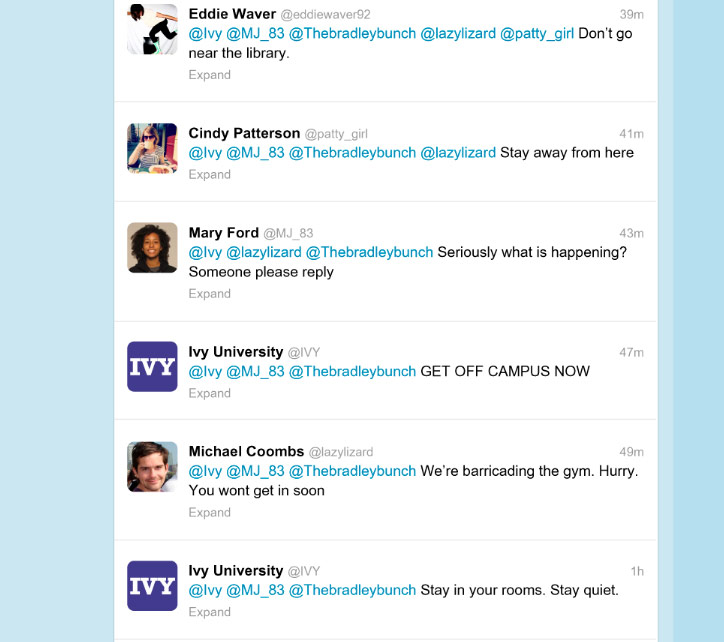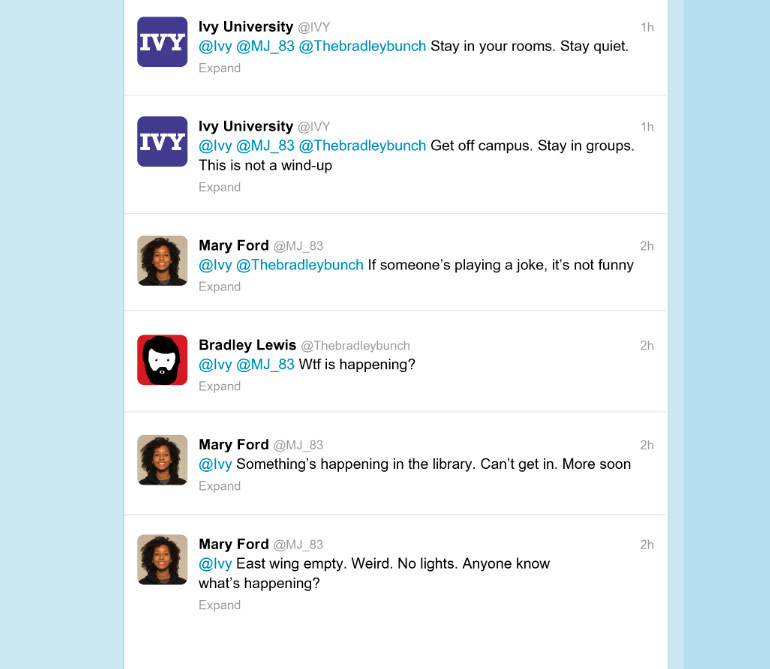 CLASSIFIED MEMO DISCOVERED Posted on June 1, 2012 by L.A.W
Our guy sent this memo in from an unknown organisation. From the looks of it, they don't want us to know something.
They're talking about a c-virus or something. No idea. J'avo? Mass Troop testing? What does this mean?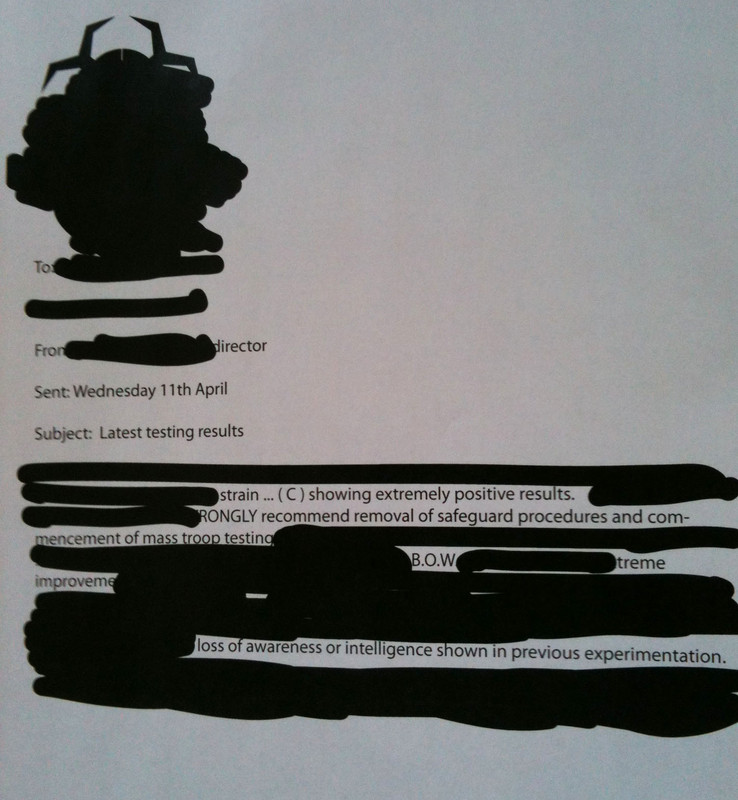 POSSIBLE IVY GIRL MESSAGE?? Posted on June 4, 2012 by L.A.W
Listen to this one. Sounds American, maybe she was calling from IVY uni??
https://soundcloud.com/l-a-w1/ivy-girl
AMERICAN GIRL VIDEO Posted on June 8, 2012 by L.A.W
Just got this video of an American girl wearing an IVY uni top. What went down at that place?
https://www.youtube.com/watch?v=MfyscFQwXUI
[Everything between here and the next date is sadly lost forever]
WE KNOW IT'S HARD BUT KEEP SENDING WHAT YOU CAN Posted on September 3, 2012 by L.A.W
SAY GOODBYE WHILE YOU STILL CAN.
[Lost media]
WHAT WOULD YOUR LAST GIFT BE? Posted on September 3, 2012 by L.A.W
There may be no more point in fighting but we can still hope for happiness in its smaller forms. What would your last gift be if you could give someone anything?
With the world losing hope around us, we're making dreams come true. Tell us your ideas for a last gift by going to: http://lastgoodbye.nohopeleft.com/gifts#!/gifts/. [Editor's Note: Just the ARG way of rewarding prizes and the like]

We'll try to grant the ones we can.
Go now.
WE'RE PUTTING UP AS MUCH AS WE CAN Posted on September 4, 2012 by L.A.W
[https://www.youtube.com/watch?v=zRD-jTeT-bM  Editor's note: this is fan made. It's used to allow fans to have a bigger part in the ARG]
COLOGNE Posted on September 7, 2012 by L.A.W
[https://www.youtube.com/watch?v=9_pb8haNwDE Editor's note: Same as above]
Project ELEOS – Our Last Chance? 10 winners can win exclusive packs that can save them from the apocalypse. Posted on September 10, 2012 by L.A.W
Shit! You will not believe what just landed in our inbox. If this is true it could alter the future of humanity. Forever.
An organization have contacted us calling themselves ELEOS. They claim they can offer protection for a select amount of human DNA, and they're looking for our help to source their specimens. Aim: To create a DNA bank, we assume for protection and repopulation after (or should we say if) a cure for the virus can be found. Given the prevalence of the outbreak we forsee, that's some ballsy folk right there!
They want us all to help them in two ways. To vote on and discuss the criteria they should use to select the DNA specimens, and to APPLY FOR THE PROGRAMME! (although be warned there are only ten places, and some of us at NHL are applying too, so you better have your reasoning pretty polished).
So get involved. We can all help decide the future of humanity, and if these guys aren't pranksters (which we sure as hell hope they aren't!) the chosen few might even get to see it.
We've set up a separate section of the site to allow you guys to interact directly with what we've received from Project ELEOS.
Check out Project ELEOS here >>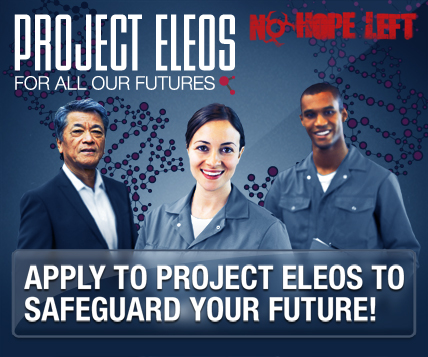 What should humans strive for: Faith or Knowledge? Posted on September 11, 2012 by L.A.W
The second poll on Project ELEOS is now live. Make sure you get over and vote or apply. We need to help them gather as much data as possible on who should be given one of the very few places on their project. We're crazy excited about what these guys are doing…
What trait is preferable to create a strong population: Selective breeding or Profligate breeding? Posted on September 12, 2012 by L.A.W
The third poll is now live on the Project ELEOS website; they are questioning the best way to create a strong population post apocalypse – they need your opinion. Your survival could depend on your taking part!
Should we prioritise: Risk taking or Risk aversion? Posted on September 13, 2012 by L.A.W
Our contact at Project ELEOS has sent us this photocopy of a 'sampling pack'. Is this how they plan to preserve DNA?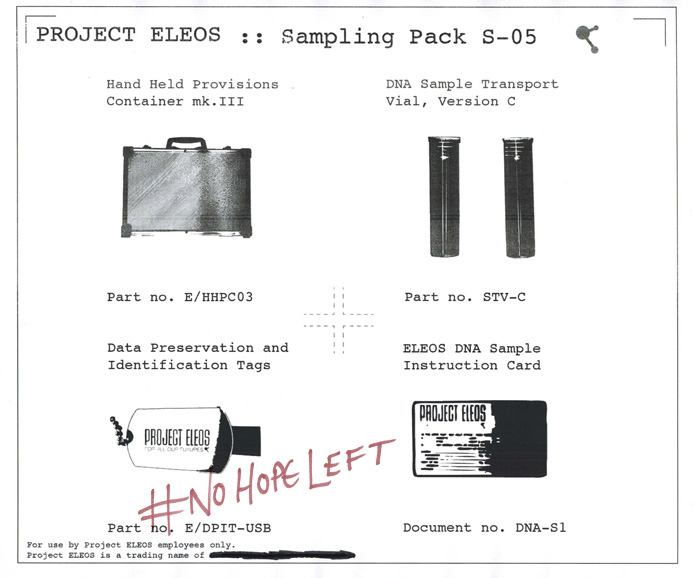 The penultimate poll is now live on the Project ELEOS website. it would be a risky business not to take part. Apply, vote and discuss the future of humankind.
Which are more valuable to a new society: Visionary thinkers or Pragmatic thinkers Posted on September 14, 2012 by L.A.W
We have received another leaked document from Project ELEOS. This one details the 'boarding pack', presumably for the 10 people chosen to survive.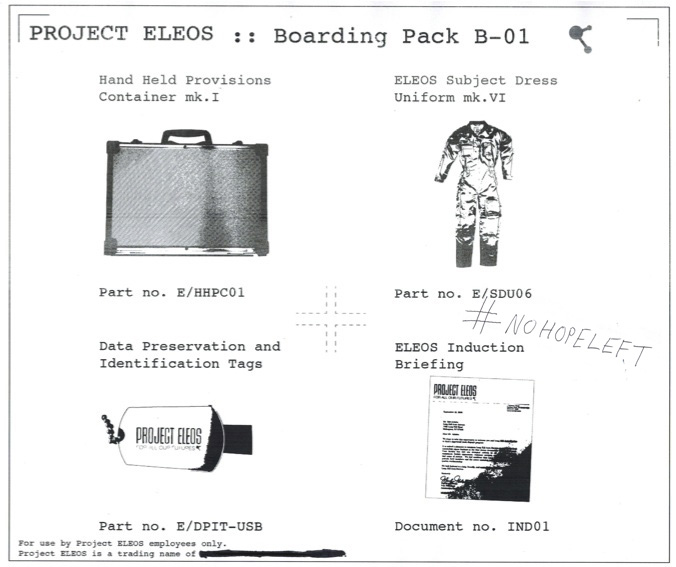 The last poll has opened on Project ELEOS, take part and voice your views for the sake of your friends and family. These polls will close on the 21st of September.
24 hours left to apply for Project ELEOS Posted on September 18, 2012 by L.A.W
There are now less than 24 hours to APPLY TO BE A PART OF Project ELEOS; be an Adam or Eve for a new generation of human survival! Get over to Project Eleos now to take part.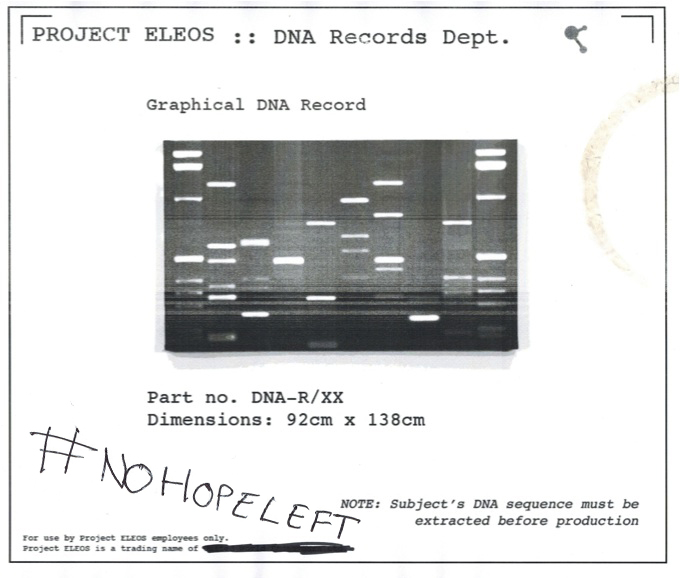 Our Project ELEOS contact has supplied us with a file from the 'DNA Records Dept.'. It looks like they are planning to map and record someone's DNA code. What do they need it for?
URGENT WARNING – WE JUST GOT THIS Posted on September 18, 2012 by L.A.W
We don't want to drive the fear into anyone, more than we need to, but we just been sent some horrifying images. Please let these be a warning to keep inside and only venture out if you absolute must. If you do, then go out armed and in groups.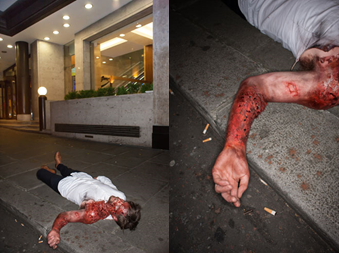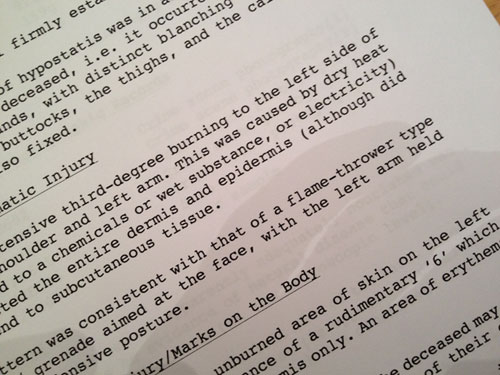 [Editor's note: there may be missing images but when I went to scavenge this I saw no evidence of missing images.]
More Photos – This is Crazy… Posted on September 19, 2012 by L.A.W
We have received another set of gruesome images – this time of a female victim. There is a second page of some document – we are yet to ascertain any meaning.
THEY KEEP ON COMING Posted on September 21, 2012 by L.A.W
Another female victim has been sent to us. Along with more of the document – which appears to be parts of a autopsy report.
ELEOS Polls – Finished Posted on September 21, 2012 by L.A.W
Results of the Project ELEOS polls are now in. You can view the results here – although finished you can still comment and discuss them or the results. Thank you to all those who have taken part; you have supported the future of humankind with your input.
PIECING STUFF TOGETHER Posted on September 24, 2012 by L.A.W
With another page of the document we are now sure that this is an autopsy report. It is also becoming clear that all these victims are part of the same event.
CONCLUSIONS Posted on September 26, 2012 by L.A.W
Particularly disturbing images from the bloody incident we have been posting about. Made more horrible by the attached conclusions page to the autopsy document.
Project ELEOS – 48 Hours Posted on October 1, 2012 by L.A.W
It's the final 48 hours to vote on who makes it through to Project ELEOS. As we've stressed before – your input could help determine the survival of our species – so please take the time to go over there and vote… before it's too late for us all.
http://eleos.nohopeleft.com/
JOIN THE FIGHT Posted on October 2, 2012 by L.A.W
No more talking.
No more waiting for the end.
No more waiting to die.
Join the Fight. [Editor's note: There was a link here to a Resident Evil Mercenaries Facebook game, it wasn't that good]
Good luck everyone.
The ELEOS 10 Posted on October 4, 2012 by L.A.W
10 people have made it through to Project ELEOS! Its great to have been able to get this project out to you guys! Unfortunately none of our team members got through to the final round, but we wish everyone who did the best of luck. INCREDIBLE what's happening to you guys!
Project ELEOS – Double Cross Posted on October 8, 2012 by L.A.W
No Hope Left members. It appears we made a terrible mistake supporting Project ELEOS. We have just received these photographs showing that the applicants who got through have been used in some kind of genetic testing.
[Editor's Note: Several lost pictures of BOWs, If memory serves, it was photos of the 10 winners of the ARG edited to be BOW.]
We never intended to endanger anyone, and can only hope those who either were too suspicious to apply, or who failed to make it through, are faring better in these dark times than the poor souls who's lives have been taken in such brutal fashion.
OUR LAST GOODBYE Posted on November 12, 2012 by L.A.W
[https://www.youtube.com/watch?v=hGNay0ive6c]