Good day my fellow researchers, I am back and I present here my findings on Christine Henri derived from Resident Evil 3 Nemesis The Mercenaries Operation Mad Jackal and the comic book adaptation of it: Bio Hazard 3 Last Escape HK comics.
Attention! This topic is a retrospective and is not meant to be indicative of recent events and as such even if the premis of my topic is true it is very likely to be obsolete.
Have we already seen Christine Henri and did not know it?
As we all know In RE2 there is a file called "Operations Instructions" that shows that Christine Henri is the R&D facility head manager of the French division and it was her who directly ordered Special Agent HUNK and his Alpha team to retrieve the G-Virus from William Birkin.
Resident Evil 3 Nemesis has an epilogue of HUNK and while it does not mention Christine Henri it does indeed show that the team behind RE3 at least knew of the events behind RE2 that involved HUNK and the recovery of the G-Virus.
In Resident Evil ARCHIVES, the HUNK profile mentions HUNK is directly under the control of Christine who is a executive of the French branch.
Resident Evil 3 Nemesis has a fun mini-game called "The Mercenaries Operation Mad Jackal" where a player character either Carlos, Victor or Nicolai must reach a specified location where they receive money and their freedom from a female with a briefcase, next to her is a man sitting in a chair, the man re-uses the model of Brian Irons but the female has her own unique model.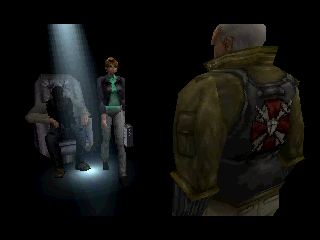 In the HK comics of Bio hazard 3 Last Escape, the ending scene from The Mercenaries Operation Mad Jackal is recreated in detail: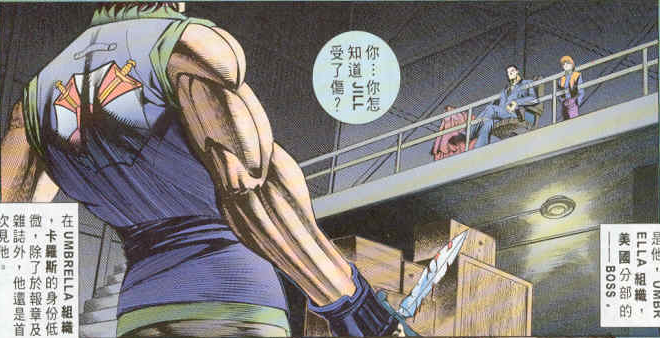 The scene is expanded with the female & male from The Mercenaries having expanded roles. The male appears to be a higher up within Umbrella Incorporated called "Boss" but what is really interesting is special agent HUNK makes an appearance and reports to the female and "Boss".

[
]
Specifically in the comic the unnamed female and Boss are at Umbrella European HQ but then decided to take a helicopter to Raccoon City, get debriefed from HUNK and then use Carlos in a little "mini-game" to further their own agenda.
Since we and CAPCOM both knew that HUNK reported to Christine Henri who is at Europe then does that mean that this unnamed female that HUNK reports to could be Christine Henri herself? Who in turn reports to this "Boss" fellow?
 - But Operation Mad Jackal does not actually take place or does it?
Resident Evil 3 was made after Resident Evil 2 which means the most recent mini-game was "The 4th Survivor" which stars Special Agent HUNK an did indeed actually take place.
However it was this section on the "BIOHAZARD 3 LAST ESCAPE Official Website (Dreamcast Ver.)" that made it clear to me that the events actually did take place:
" I heard the boss who gives money in The Mercenaries is someone involved with Umbrella, but please tell us about him in detail.
Kawamura: Let's reveal the truth behind the The Mercenaries scene. As a matter of fact, The Mercenaries is a popular entertainment program of the underworld that only very few aristocrats, high-ranking government officials and the super-wealthy can watch in a secret members-only Pay-Per-View (paid program broadcast) televised by Umbrella. The mystery man giving the mercenaries instructions and rewards is the host and producer of the program. The condition of the mercenaries is broadcast live by satellite with high-performance microphones attached to the mercenaries, installed by the Monitors. The time displayed on-screen is a time display broadcast to the mercenaries and the audience's approval rating (viewership) is added to it in real time. If the mercenary fights heroically, extravagantly defeats enemies and impressively rescues civilians and comrades, airtime will be extended if they gracefully escape from the crisis. If they garner support well and reach the goal within the airtime, they're given a reward depending on the audience rating and the mercenary will be freed. Mercenaries who can't earn the audience's approval rating have their camera cut off upon timeout and lose their life at the same time. "
I do not see a cause for this to not be true seeing as how it is the official site for the Japanese version of Bio hazard 3 Last Escape so I think it is very safe to say that The Mercenaries actually did happen in the Bio Hazard/Resident Evil timeline.
To me the events surrounding The Mercenaries in Bio3 HK comics at least shows that the team behind the Bio3 HK comics was at last aware of the truth behind The Mercenaries scene not unlike how the wild storm comic book team where giving behind the scenes information.
Lastly back when Bio3 was still early in development it was desired for it to have a closer connection with Bio2 and learn more about William Birkin and his feud with Umbrella.
"Q. Is there a reason why Dr. Birkin gave up his ambitions to became an executive officer after the final entry of the BIOHAZARD 2 file, "Mail to the Chief"?
A. I created BIO3's circumstances to explain the files of BIO2. In my interpretation, I thought Birkin didn't regard the G-Virus as raw material for creating biological weapons. The biggest difference between the T-Virus and G-Virus is whether it's a virus which produces mutations, or a virus of God for producing a new species. About the question whether he wanted to become an executive, you could say it's correct, even if it differs. Why was he an executive candidate? He wanted Umbrella's power. Don't doctors want patrons to support their research with full support? There's a difference between Birkin and Wesker. Wesker wanted immense power for his own sake. Wesker was also a researcher, but I think he was a prisoner of power. Thus, unlike Birkin, he took off the white robes. Birkin would've wanted to have abundant research funds through holding Umbrella's power. He probably didn't necessarily want to become a billionaire or politician, and wanted to be an executive. What's the difference? However, in my opinion, I think Umbrella's demands were always different from Birkin's wishes. It's the same with us designers, the thoughts of managers are different. "
Since the game was to explore more of Bio2 then it is not outrageous to think it would have expanded more on HUNK as well especially as in the final product he ended up having his own epilogue. Perhaps Christine Henri herself was to have made a psychical appearance in the beta Bio3 with her own model even being made but when the game got shortened her main role was cut out but she ended up being used in a small role in The Mercenaries Operation Mad Jackal. Could this female be the legendary Christine Henri? Thank you everyone who read my post.