So on one of the interviews for ORC, back before it released, they stated that the game had files to collect in the game. That never happened and for a while I assumed Inserted Evil was what was left of those files. However this may prove otherwise.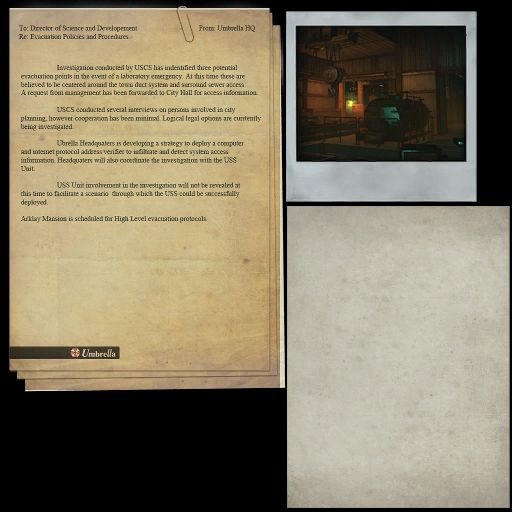 Here's the transcript to make reading easier.

"From: Umbrella HQ
To: Director of Science and Development
Re: Evacuation Policies and Procedures
Investigation conducted by USCS has identified three potential evacuation points in the event of a laboratory emergency. At this time these are believed to be centered around the town duct system and surrounding sewer access. A request from management has been forwarded to City Hall for access identification.
USCS conducted several interviews on persons involved in city planning, however cooperation has been minimum. Logical legal options are currently being investigated.
Umbrella Headquarters is developing a strategy in deploy a computer and internet protocol address verification to infiltrate and detect system access information. Headquarters will also coordinate the investigation with the USS Unit.
USS Unit involvement in the investigation will not be revealed at this time to facilitate a scenario through which the USS could be successfully deployed.
Arklay Mansion is scheduled for High Level evacuation protocols."
Now I won't lie, it's a bit hard to read but I figure that's due to one of the following reasons.
Reason one, it's meant for the Director of Science and Development and thus only he or she knows what's being talked about.
Reason two, it's not the actual file that's meant to be read and just parts of it.
To give an example of the latter, look at the file "A SUICIDE'S FAREWELL NOTE" from remake.
Here's what the file(PU translation) says when you pick it up
"June 22.1998
Since Robert who I escaped with began to show the symptoms of the monsters, I reluctantly killed him and put him in the bathroom. Almost certainly, I'm the last one now.
Why'd it come to this? And now, I regret having participated in this research. I won't be leaving this mansion alive now.
The preparations are finished. After this, all I need is courage now.
Although regret remains, it's inevitable.
They became monsters, so I'd rather disappear as a human, and drop my own curtain
Letters are written on the back of this paper.
Forgive me, Linda"
But here's what the texture shows.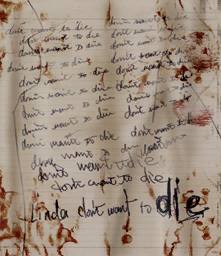 Here's it is written out as well.
"don't want to die don't want to die.
don't want to die don't want to die.
don't want to die don't want to die.
don't want to die don't want to die.
don't want to die don't want to die.
don't want to die don't want to die.
don't want to die don't want to die.
don't want to die don't want to die.
don't want to die don't want to die.
don't want to die [unreadable scribbles.]
don't want to die.
don't want to die
Linda don't want to die."
So the texture may not reflect on what the text of the file would've said. Regardless, there is something interesting, besides ORC having cut files, we can take from this. "Arklay Mansion is scheduled for High Level evacuation protocols." What's so interesting about this? Let's take a look at "BIO HAZARD Directors Cut -Inside of BIO HAZARD-" the section titled "AFTER THE BIOHAZARD INCIDENT."
"7 Researchers Visiting from Headquarters (estimated)
...All of these were missing and unaccounted for, with no bodies found. In some cases, they could be held isolated by Umbrella, so confirmation of their whereabouts must be carried out urgently."
The High level evacuation protocol could've been those researchers being evacuated and taken to another location shortly before or when Sergei got Talos out. Just something I thought about when reading that last bit.
While I'm on the topic of files having textures being different from the text we read ingame and unused stuff, here's a couple of nice nuggets.
This is the in game (from PU) version of the file "SECURITY CHIEF'S E-MAIL"
"TOP SECRET
July 22.1998 2:13
To the Chief of Security
X-DAY is approaching.
Carry out the sequential execution of the following tactics immediately and within one week.
1) Lure S.T.A.R.S. to the laboratory and obtain B.O.W. (Bio Organic Weapon) combat data.
2) Collect two embryos per breed of B.O.W., including mutants.
 However, dispose of the Tyrant.
3) Dispose of the Arklay Laboratory, including personnel and test animals, and make it look like an accident."
This is what the texture itself says.
"From: Headquarters "UMBRELLA"
To: "Chief of Security" arklay laboratory
Date: July 22, 1998 (2:13)
Subject: Priority Procedure
CONFIDENTIAL
Attn: Chief of security
The X day is drawing up on us. Execute the following procedures within one week. Prompt actions are demanded.
1. Lure S.T.A.R.S. to the estate, laboratory and obtain B.O.W.'s raw combat data against S.T.A.R.S.
2. Collect two embryos for each of the Mutation Specimen as samples except for the Tyrant. Dispose the Tyrant.
3. Ensure complete disposal of the Arklay Laboratory including all personnel and test animals. Arrange the disposal as being a disguised accident. When the above procedures are executed report to headquarters for further instructions.
If for some reason you are unable to execute the procedure by the deadline, report immediately. As number extensions, also report by electronic mail or fax. In case of emergency situations, report directly to the extension number 1234567.
Good Luck
Umbrella Headquarters
-------------------------------------------------- IMPORTANT INFORMATION --------------------------------------------------
The contents of this email are confidential, may be subject to legal privilege and protected by copyright. They are intended for the named addressee only. If you are not the named addressee or a person acting on behalf and with the authority of the addressee and have received this email by mistake, any copying, disclosure or dissemination of the contents of this email to any third party is strictly forbidden by the sender and the sender reserves all rights and remedies against any person or entity making any such unauthorized use thereof. If you have received this email in error, please would you contact the sender immediately by Telephone -1 (123) 457 7890, Fax +1 (123) 457 7890 or return of email and then delete and/or destroy this email. Please note that any views or opinions presented are (unless the context otherwise makes it clear) solely those of the author and do not necessarily represent those of Umbrella Pharmaceuticals.

Please also note that Umbrella Pharmaceuticals at all times to keep its network full of viruses- You should, however, scan this email and any attachments to it for any viruses. Umbrella will not be held responsible for any viruses which may be transmitted upon receipt of this email or the opening of any attachment thereto."
Lastly, for now, here's an unused newreport from Outbreak's Decisions, Decisions extracted by a StuntmanSnake.
"Emergency workers continue their rescue efforts within Raccoon city and the surrounding area. However, the state government imposed 160 mile no entry zone perimeter is still in effect without exception. Raccoon city and its surrounding area will be under military control.
This is Richard Harris reporting for RNN. I'm 300 miles from the center of Raccoon City. No one is being allowed in or out without the highest security clearance. Highways are completely shut down, and there is a strong military presence. What has happened here? To the casual onlooker, this may resemble a war zone. But the reality is far more grave. The government has yet to release any details, but I can tell you that the damage is tremendous, judging from the size of the restricted zone. Will we learn the truth?
Earlier this morning, 12 "Angel arrow" intermediate-range ballistic missiles were successfully launched from Dallas air force base, wiping out everything within a 120 mile radius of Raccoon city. The death toll is expected to reach into the 100,000s. This is the worst disaster in the history of this country."